Traditional storm glass, stainless steel matt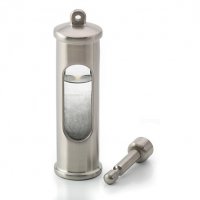 Product description:
Stainless steel storm glass of the Danish manufacturer E.S. Sörensen from Copenhagen. The storm glass is satin brushed and impresses with its straight design that was created by the Danish man Stig Larsen. Changes in crystal formations in the water-filled glass tube indicate the weather expectations for the next two days. The benefit of such storm glass was discovered by Captain Fitzroy who sailed off to circumnavigation of the globe with Charles Darwin in 1831. Let this storm glass enthuse you and decorate your home or ship with such beautiful and practical maritime accessory. You have the choice whether or not to include a wall bracket in the scope of delivery. This storm glass is 14cm in height. The product is shipped with a detailed manual.
Shipping costs
Denmark (12.00 EUR)
Italy (15.00 EUR)
Luxembourg (12.00 EUR)
Netherlands (12.00 EUR)
Poland (15.00 EUR)
Portugal (15.00 EUR)
Spain (15.00 EUR)
Sweden (15.00 EUR)
Switzerland (29.75 EUR)
---
Methods of payment
Prepayment via bank transfer
Paypal
Credit card
---
Available in different designs

Article number: #
4501X

Ready for dispatch within 24h
(excl. VAT: 87.40 EUR)
Shipping weight: 1.00 Kg
---

Article number: #
4501

Ready for dispatch within 24h
(excl. VAT: 99.16 EUR)
Shipping weight: 1.00 Kg