Galilei thermometer in mahogany-coloured wall bracket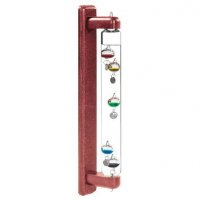 Product description:
Galilei thermometer in a very decorative wall bracket made from mahogany-coloured wood. Five small, differently coloured glass balls float in a glass tube. Each of these little balls has a small stainless steel pendant that is engraved with the temperature. The room temperature is shown by the glass ball floating on top. The bracket is made from solid beech wood and stained in an elegant mahogany tone. The back side of the thermometer is equipped with a bracket for easy installation on the wall. The range of measurement reaches from 18 to 26 degrees. The size of the Galilei thermometer is 47 x 11 centimetres. This is not only a great gift for physics enthusiasts, but also a treasure for every household. Of course, a detailed product description is delivered.

No longer available