Admiral Fitzroy storm glass in wooden showcase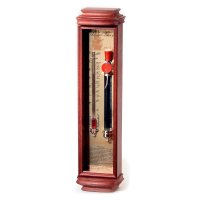 Product description:
Admiral Fitzroy (1805-1865) was an expert in shipping and meteorology like no other scientist during his time. Fitzroy was able to forecast the weather of the next two days by the changes of a liquid in a glass tube. A particular mixture of water, alcohol, and crystal salt in the glass tube was the secret of his barometer. During good weather conditions the liquid in the glass tube was clear, while it became turbid when storms came up. The storm glass barometer we offer at this online store works with the exact same principle. The diligently manufactured wooden showcase is made from beech wood and elegantly stained in a mahogany tone. Next to the barometer the showcase also holds a precise thermometer with a measurement range of -10 to 50 degrees Celsius. The measurements of the Admiral Fitzroy storm glass are 465 x 115 millimetres. This instrument is a present you would certainly like to receive yourself..

No longer available