Galilei thermometer, brass lacquered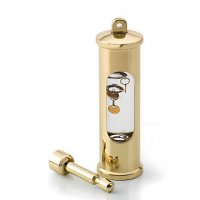 Product description:
Galilei thermometer made by Sörensen in beautiful brass enclosure with Danish design. Four small glass balls, filled with different liquids, float up and down according to changes in temperature. The current room temperature can be viewed on the small metal pendant of the ball floating on top. The scope of delivery includes gift packaging and a detailed product description. You can order your Galilei thermometer with or without wall bracket. Would you like to give away a Galilei thermometer as a present? Our shop offers wooden gift boxes particularly made for this thermometer that we can only recommend! Would you like to attach your Galilei thermometer to a wooden plate and hang it on the wall? No problem, We also offer an edition of this thermometer on a mahogany-coloured wooden plate (17 x 24 centimetres) with brass edges and a hook on the back. If you would like to give this thermometer on wall board away as a gift, you can order a matching engraving plate in the accessory section of our shop. Please find all available editions of the Galilei thermometer in the following overview.
Shipping costs
Denmark (12.00 EUR)
Italy (15.00 EUR)
Luxembourg (12.00 EUR)
Netherlands (12.00 EUR)
Poland (15.00 EUR)
Portugal (15.00 EUR)
Spain (15.00 EUR)
Sweden (15.00 EUR)
Switzerland (29.75 EUR)
---
Methods of payment
Prepayment via bank transfer
Paypal
Credit card
---
Available in different designs