Designer storm glass with wall bracket, stainless steel matt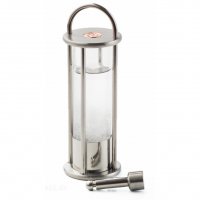 Product description:
Appealing storm glass, designed by the Danish designer Peter Seidelin Jessen from Copenhagen. This storm glass shows the weather to be expected in the next one or two days through changes in structure and arrangement of the crystals that float in the water of a glass tube. This storm glass barometer impresses with its new and light design that was created by Peter Seidelin. The small glass tube of this storm glass is visible from all sides. This instrument is a great gift for everybody who is interested in weather - whether at home or aboard a ship. The functionality of this storm glass barometer goes back to the times of Charles Darwin's circumnavigation of the globe in the 19th century. Darwin sailed off with the legendary Admiral Fitzroy in 1831 and was fascinated by the accuracy of Fitzroy's storm glasses' weather forecasts. And just like Fitzroy did centuries ago, you can observe changes in weather with the stainless steel storm glass of our online shop. This storm glass is 14cm in height (17cm with bracket) and produced at E.S. Sörensen in Denmark. We deliver a full package with matching wall bracket and detailed product description.

Ready for dispatch within 24h
108.00 EUR
(excl. VAT: 90.76 EUR)
Shipping weight: 1.00 Kg
---
Shipping costs
Denmark (12.00 EUR)
Italy (15.00 EUR)
Luxembourg (12.00 EUR)
Netherlands (12.00 EUR)
Poland (15.00 EUR)
Portugal (15.00 EUR)
Spain (15.00 EUR)
Sweden (15.00 EUR)
Switzerland (29.75 EUR)
---
Methods of payment
Prepayment via bank transfer
Paypal
Credit card
---
Stormglass-Shop.com Article number: #
4493