Galilei thermometer, stainless steel matt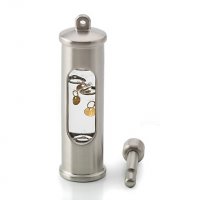 Product description:
Galilei thermometer in satin brushed stainless steel enclosure. The design of the thermometer was developed by the Danish man Stig Larsen; it is manufactured by the E.S. Sörensen in Copenhagen. The glass balls inside the glass tube float up and down and show the current room temperature. Detailed information about the measuring principle are listed in our information section. The thermometer is available with or without wall bracket and is delivered with detailed product description. A perfect present for people who find pleasure in measuring equipment and also a decorative accessory that is useful at the same time.
Shipping costs
Denmark (12.00 EUR)
Italy (15.00 EUR)
Luxembourg (12.00 EUR)
Netherlands (12.00 EUR)
Poland (15.00 EUR)
Portugal (15.00 EUR)
Spain (15.00 EUR)
Sweden (15.00 EUR)
Switzerland (29.75 EUR)
---
Methods of payment
Prepayment via bank transfer
Paypal
Credit card
---
Available in different designs

Article number: #
4506X

Ready for dispatch within 24h
(excl. VAT: 83.19 EUR)
Shipping weight: 1.00 Kg
---

Article number: #
4506

Ready for dispatch within 24h
(excl. VAT: 90.76 EUR)
Shipping weight: 1.00 Kg