Galilei thermometer, stainless steel polished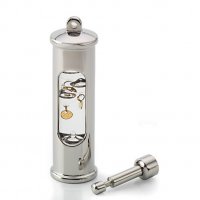 Product description:
Beautiful Galilei glass, manufactured by E.S. Sörensen in Denmark. The enclosure is made from stainless steel and high-gloss polished subsequently. Four small balls float up and down in the glass tube according to the room temperature. The glass ball on the bottom shows the current room temperature. The thermometer can be ordered with or without wall bracket. The stainless steel enclosure is 14cm in height. The Galilei thermometer is delivered with a detail product description and gift packaging.
Shipping costs
Denmark (12.00 EUR)
Italy (15.00 EUR)
Luxembourg (12.00 EUR)
Netherlands (12.00 EUR)
Poland (15.00 EUR)
Portugal (15.00 EUR)
Spain (15.00 EUR)
Sweden (15.00 EUR)
Switzerland (29.75 EUR)
---
Methods of payment
Prepayment via bank transfer
Paypal
Credit card
---
Available in different designs

Article number: #
4505X

Ready for dispatch within 24h
(excl. VAT: 83.19 EUR)
Shipping weight: 1.00 Kg
---

Article number: #
4505

Ready for dispatch within 24h
(excl. VAT: 90.76 EUR)
Shipping weight: 1.00 Kg